Last month, Entertainment Earth unveiled a listing of upcoming Sonic Prime merchandise, teasing figures of Sonic, Dr. Eggman, Tails Nine, and Thorn Rose. Now, the wait is over as JAKKS Pacific reveals a full lineup that extends beyond our expectations!
Inspired by the hit show, this new line of Sonic Prime products is scheduled to hit stores this summer, coinciding with the second season premiere on Netflix on July 13.
Fans and retailers can anticipate an exciting wave of Sonic Prime merchandise, including 5-inch articulated action figures, a 2.5-inch figures multipack, the Angel's Voyage Ship Playset, and a 13-inch plush featuring Sonic Prime.
The Toy Book has exclusively granted us a sneak peek at the highly anticipated JAKKS Pacific Sonic Prime lineup, giving us a glimpse of what's to come. Let's delve into the details:
Sonic Prime 5-Inch Articulated Figures Wave 1

Wave 1 presents a series of 5-inch articulated figures showcasing beloved characters from Sonic Prime. Each figure boasts over 12 points of articulation, and the assortment includes Sonic, Mr. Dr. Eggman, Tails Nine, and Thorn Rose. Retail Price: $14.99.
Sonic Prime 2.5-Inch Figures Multipack — Wave 1
This delightful multipack features 2.5-inch figures with multiple points of articulation, allowing for poseability and creative displays. The Wave 1 multipack, themed after New Yoke City, includes Sonic, Tails Nine, Rusty Rose, and the Prism Shard along with a display base. These figures are also compatible with other Sonic Prime toys and the Angel's Voyage Ship playset (each sold separately). Retail Price: $19.99.
Sonic Prime Angel's Voyage Ship Playset
Embark on thrilling adventures with the Angel's Voyage Ship playset, which includes a pirate ship and a 2.5-inch-scale Knuckles the Dread figure. This playset allows kids to bring the show's stories to life, featuring three launching cannons, a secret trap door, rolling wheels, and interior storage space for additional Sonic Prime figures. Retail Price: $39.99.
Sonic Prime 13-Inch Poseable Plush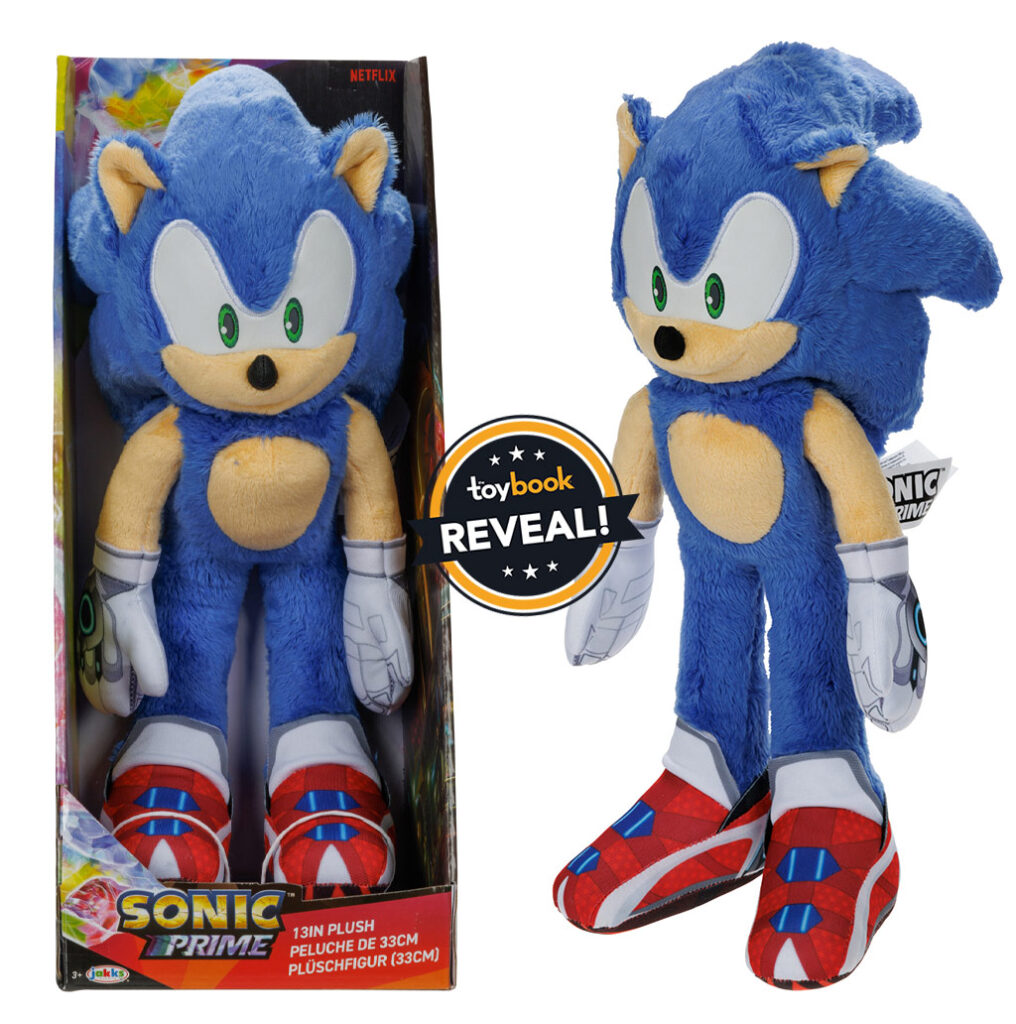 Meet the cuddly 13-inch Sonic the Hedgehog plush, crafted from ultra-soft fabrics and premium stuffing. With detailed character artwork on his gloves, shoes, and eyes, this plush captures Sonic's iconic design. It will be available exclusively at Target in the U.S., and other international retailers will also carry it. Retail Price: $19.99.
JAKKS Pacific plans to launch the Sonic Prime merchandise collection worldwide in July, spanning North America, Asia-Pacific, Latin America, Europe, the Middle East, and Africa. Stay tuned to Sonic City for more updates on the exciting Sonic Prime merchandise lineup!
Source: The Toy Book