ROCK 'N' SONIC THE HEDGEHOG Sessions!
ロックンソニック・ザ・ヘッジホッグ / セッションズ!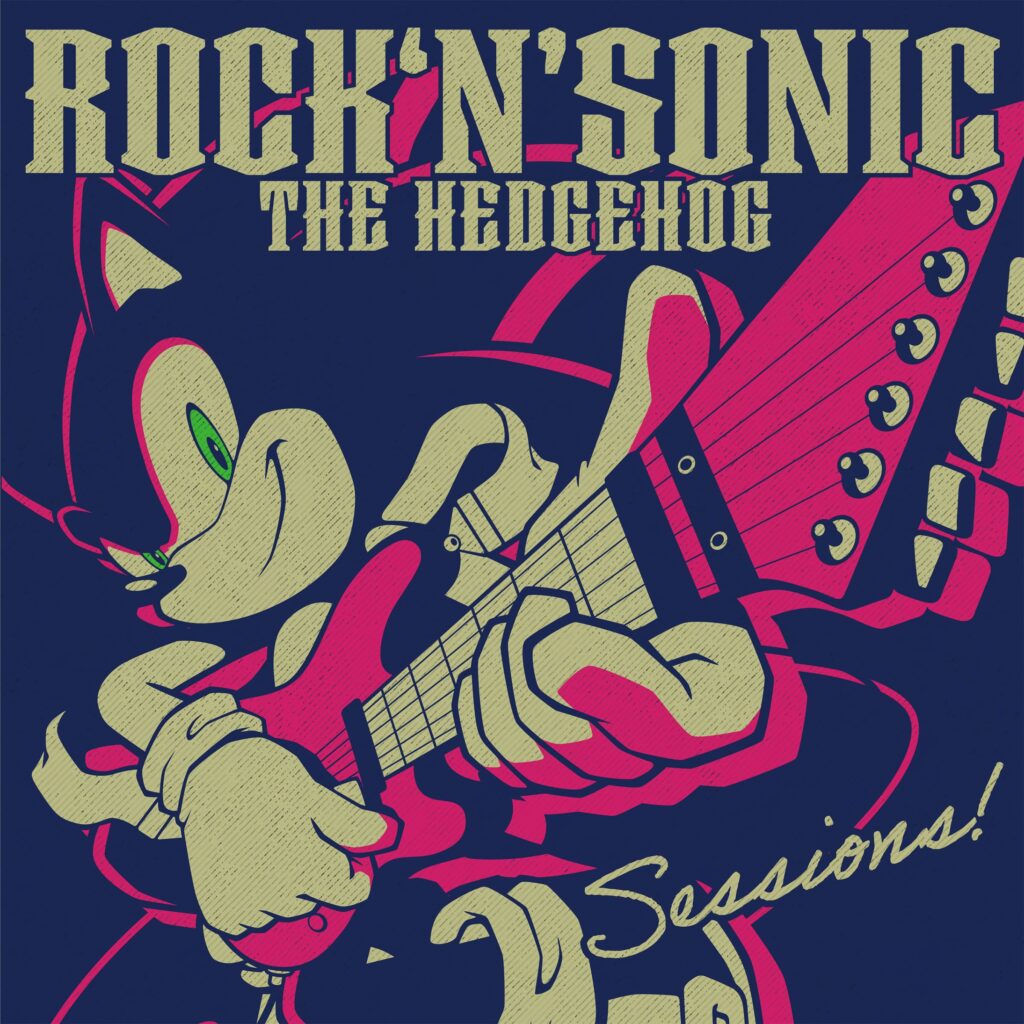 Release Date: Feb 16, 2022
Published By: WAVE MASTER ENTERTAINMENT
Composed By: Jun Senoue, Ted Poley, Johnny Gioeli, Tomoya Ohtani, SEGA, Masaru Setsumaru, Richard Jacques
Arranged By: Dean DiMarzo, Jun Senoue, Tee Lopes
Performed By: Sonic Adventure Music Experience, Crush 40, Tyler Smyth, Andy Bane, Jun Senoue
Lyrics by: Douglass Robb (Hoobastank)
Vocals: Lyn Inaizumi, Johnny Gioeli, Tyler Smyth from Dangerkids, Andy Bane from Dangerkids, Mariana Lopes, Tee Lopes
Guitars: Jun Senoue
Guitar Solo: Jun Senoue
Bass: Takeshi Taneda
Keyboard: Katsuhiko Nakamichi
Drums: Akht.
Programming: Tee Lopes
Producers: Jun Senoue (SEGA), Katie Chrzanowski (SEGA of America, inc.)
Executive Producer: Hitoshi Okuno, Ivo Gerscovich, John Choon (SEGA of America, inc.), Fumitaka Shibata
Community: Justin Thormann (SEGA of America, inc.), Keita Fujiki, Edmundo Prado
PR: Evan Bader (SEGA of America, inc.)
Mastered by: Isao Kikuchi
Mastered at: Warner Music Mastering (Tokyo, Japan)
Design: Gulch Graphics
Illustration: Yuji Uekawa (SEGA)
A&R Director: Kazuo Koizumi
Staff: Kazuyuki Hoshino (Sonic Pillar Japan), Yui Karasuno (Sonic Pillar Japan)
Licensing: Makoto Matsui
Marketing: Akane Inoue, Rena Sakai
Series Producer: Takashi Iizuka (SEGA of America, inc.)
Sessions Coordinators: Tomomi Kagaya (MT Globe, inc.), Noriko Sekiya (Face Music)
Engineers: Masahiro Fukuhara, Yoshitada Miya, Tyler Smyth, Tee Lopes, Jun Senoue
Special Thanks: Toshihiro Takashima (ATLUS CO., LTD), Masami Takami (ATLUS CO., LTD), Hiroki Hayashi (ESP Guitars), Yuichi Sugata (ESP Guitars), Daiki Sato (ESP Guitars), Yuichiro Obata (Zoom), Yasu Yokote (Performance Guitars), Scott Uchida (Jim Dunlop), Kohei Kondo (SEGA), Eishin Miura (SEGA), Teruhiko Nakagawa (SEGA), Tetsu Katano (SEGA), Aiko Matsuda (SEGA), Kazuya Sato (SEGA), Jun Takemura (SEGA), Aaron Webber
Games Represented: Sonic Adventure 2, Sonic Forces, Sonic the Hedgehog 3, Sonic Racing, Sonic Runners, Sonic Adventure, Sonic R, Sonic The Hedgehog 4: Episode I, Sonic the Hedgehog 2 (8-bit)
SUPPORT THE OFFICIAL RELEASE!
Available at: CDJapan
Rules
By going any further into this section of the site you agree to the following:
1. All music files are purely for educational purposes only!
2. Music files that have been downloaded must be deleted from your hard drive within 24 hours.
3. Sonic City will not be held responsible for any users that have downloaded these files and then used them for any prohibited or illegal purposes.
Tracklist