GO SEGA – 60th ANNIVERSARY Album –
– ゴー セガ – シックスティース アニバーサリー アルバム –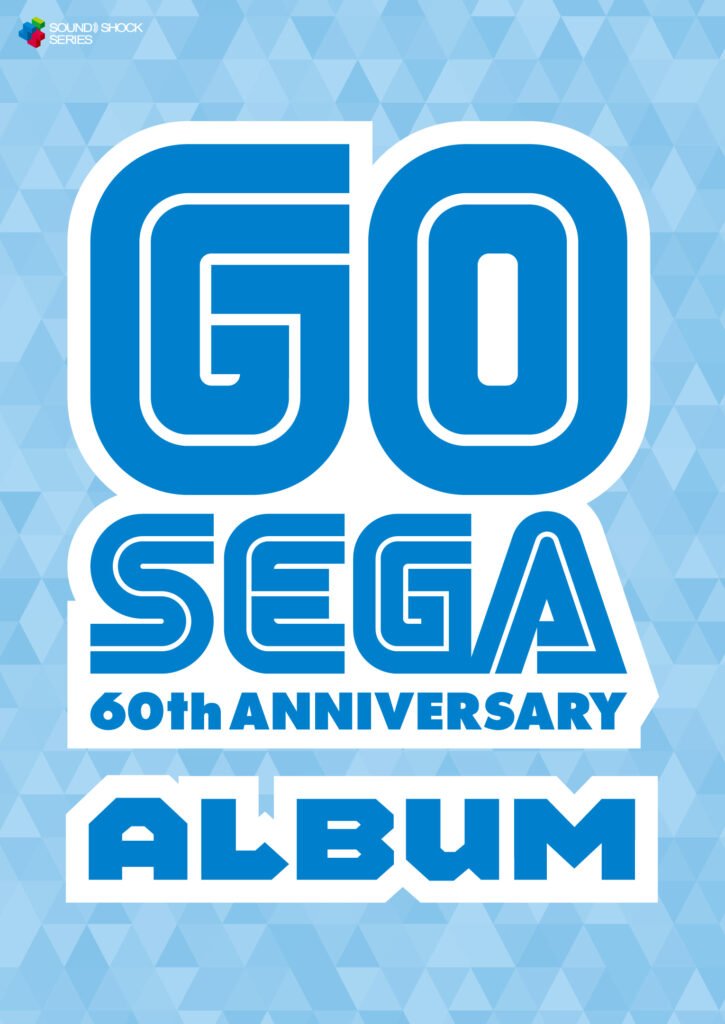 Release Date: Mar 24, 2021
Published By: WAVE MASTER INC.
Composed By: Kei Wakakusa, Gershon Kingsley*, Yukihiro Takahashi, SEGA Sound Staff, Hiroaki Serizawa, Katsuhiro Hayashi, Hiro, Tokuhiko Uwabo, Koichi Namiki, Dolphin, Yasuhiro Takagi, Yuzo Koshiro, Takenobu Mitsuyoshi, Masato Nakamura, Takayuki Nakamura, Izuho Takeuchi, Kentaro Koyama, Yoshitaka Azuma, Masayuki Nagao, Saori Kobayashi, David Leytze, Naofumi Hataya, Tomoko Sasaki, Kohei Tanaka, Hideaki Miyamoto, Shunsuke Suzuki, Tetsuya Kawauchi, Jun Senoue, Kenichi Tokoi, Ken Woodman, Sachio Ogawa, Kazuhito Shimizu, Ryohei Kohno, Tsuyoshi Kaneko, Hidenori Shoji, Kazuhiko Nagai, Chiho Kobayashi, Teruhiko Nakagawa, Fumio Ito, Megumi Takano, Chikako Kamatani, Tomonori Sawada, Tomoya Koga, Mitsuharu Fukuyama, Hideki Abe, Tomoya Ohtani, Kai, Daisuke Anayama, chibi-tech, Shinichi Sakamoto
Arranged By: Fumio Okui, PRIVATEER
Lyrics By: SEGA Employee, Tombo Arikawa, Tomoko Sasaki, Ohji Hiroi, Kan Hashimoto, Naofumi Hataya, Yasushi Akimoto, Jun Senoue, Takahiro Fukada, Zolger Tetsu, Johnny Gioeli, Chikako Kamatani, Kazuhiko Nagai, Takumi Yoshinaga, Kazuhito Shimizu, Mizuki Hosoyamada, Alex Makhlouf, Samuel Frisch, Ryosuke Horii, Jon Rodgers, beatMARIO, Douglas Robb, Dai Takemura
Vocals: Shimazu, Etsuko Kozakura, Kikuko Inoue, Yoshino Takamori, Tsuyoshi Kaneko, Rabbi☆min, Kenichi Tokoi, Rub Rabbits, MAKOTCH, Asami, Asami Imai, Jean Paul Makhlouf of Cash Cash, Takaya Kuroda, Douglas Robb (Hoobastank), Ayane Sakura, Maaya Uchida, Hibiku Yamamura, Ayaka Fukuhara, Saori Hayami, LOREN
Artist: Crush 40, Ken Woodman & his Piccadilly Brass, Hiro
Featured Artist: Takahito "Rute" Koshida, beatMARIO
Edit: Kazuhito Shimizu
A&R Producer: Yoshihiro"Moba"Ito (WAVE MASTER)
Supervisor: Hiro (SEGA)
Co-A&R: Yosuke Okunari (SEGA)
Special Supporter: Kensaku Nishimura (SEGA)
Product Advisor: Yasuhiro Takagi (SEGA), Haruhiko Tomita (SEGA), Naofumi Hataya (SEGA), Takenobu Mitsuyoshi (SEGA), Kazuhito Shimizu (SEGA), Fumio Ito (SEGA), Hidenori Shoji (SEGA), Hideki Abe (SEGA), Mitsuharu Fukuyama (SEGA)
Recording Engineer: Kenji Tsujisaka
Mastering Engineer: Takuya Hashimoto (TRC NORTH)
Mastering Studio: TRC NORTH
Designer: Haruno Takanashi (WAVE MASTER)
Copyright Administrator: Kazuo Koizumi (WAVE MASTER)
Licensing: Makoto Matsui (SEGA SAMMY HOLDINGS), Akemi Kamata (SEGA SAMMY HOLDINGS), Junichiro Takahashi (SEGA SAMMY HOLDINGS)
Special Thanks: Masato Nakamura, Yuzo Koshiro (ANCIENT), Naoki Horii (M2), Tsuyoshi Matsuoka (M2), Takayuki Komabayashi (M2), Sakuoki Kudo (M2), Jane-Evelyn Nisperos (M2), Shinichi Sakamoto, Kikuo Masumoto (DARTSLIVE), Masataka Noda (DARTSLIVE), Yasuhiko Hamada (SEGA TOYS), Yasushi Nagumo (SEGA), Takayuki Yashiro (SEGA), Mayu Koike (SEGA), Nozomi Yamada (SEGA), Yukinobu Ushio (SEGA), Shinji Okui (SEGA), Tatsutoshi Narita (SEGA), Yukinobu Arikawa (SEGA), Masaru Setsumaru (SEGA), Jun Senoue (SEGA), Hideaki Kobayashi (SEGA), Tomoya Ohtani (SEGA), Takahiro Kai (SEGA), Daisuke Anayama (SEGA), DBS, Mitsuru Maruyama (BEEP), Super Potato Akihabara (J FIELD), Game Center Mikado x Natsuge Musuem in Hakucho Kaikan (INH), All SEGA Sound Staff
Executive Producer: Fumitaka Shibata (WAVE MASTER)
Comment: Yosuke Okunari, Hiro, Kensaku Nishimura
Games Represented: Sonic The Hedgehog, Sonic the Hedgehog 2 (8-bit), Sonic Drift 2, Sonic Adventure, Sonic Heroes, Sonic Colors, Sonic Forces
SUPPORT THE OFFICIAL RELEASE!
Official Website: | 60th Anniversary Goods | SEGA 60th Anniversary Special Site
Available at: Amazon (Japan), CDJapan, PlayAsia, Rakuten, SEGA STORE, WAVE MASTER STORE
Rules
By going any further into this section of the site you agree to the following:
1. All music files are purely for educational purposes only!
2. Music files that have been downloaded must be deleted from your hard drive within 24 hours.
3. Sonic City will not be held responsible for any users that have downloaded these files and then used them for any prohibited or illegal purposes.
Tracklist for Disc 1
Tracklist for Disc 2
Tracklist for Disc 3
Tracklist for Disc 4